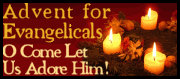 I LOVE Christmas and I LOVE
Advent
.
I grew up in a very small town and attended the "Neighbourhood" church. It was a United Baptist Church. It is very well grounded in scripture and celebrated all aspects of the Liturgical Year. I just assumed all churches were like that, whether they were Baptist, Catholic, United, whatever. About five years ago I became a Catholic and have learned that the church that I grew up in is not the typical United Baptist church. People kept asking me about why I knew so much about Lent, Holy Week, Advent and all things "very Catholic" and maybe not so much protestant. I even attended a different United Baptist church that had a vote during it's Sunday service to see whether or not they would have a Good Friday service - I promptly left that church after I had calmed myself down.
So like any good daughter, I went to my Mom for the scoop. She explained that the church that I grew up in is very special. It is a United Baptist church but is also very much a community church and that people of all denominations came there to worship, so the families could worship together as the body of Christ. It was full of Anglicans, Uniteds, Baptists (no Catholics :), and loads of people who brought all of their traditions and the church incorporated them into the church year and thusly I am very well informed without even knowing it. A very special place indeed, very family-oriented, embracing and inclusive. It is also a highly active church for all members of its congregation: Sunday school for all ages, women's' groups, men's groups, youth groups, seminars and of course community outreach programs. It sets a very high standard and it was years as an adult before I could find another like it.
My very favourite Advent memory is a tradition my church as a whole did for years. Advent is huge in that church, as it should be, but as a child it was almost magical in it's anticipation of Christmas Day (which of course was celebrated with a Birthday party for Jesus, with a huge cake and candles and the singing of "Happy Birthday").
When I was a child, the following is my favourite part of the Advent Celebration.
Of course, there was the lighting of the Advent Candles. Each week, a different family went up to the front and all the family members took turns reading: the scripture, the explanation, the lighting of the candle and the prayer. Of course we were all doing the same thing at home because everyone had their own Advent wreath on their table complete with all Advent devotions provided by the church so Advent was in the home as well as in the sanctuary. They continue this tradition to this day and my Mom still sends me (and extra for my friends) the Advent Season devotional booklet they are using that year.
Then after church and Sunday school, the whole church stayed and we all made homeade Advent wreaths to take home. Some Advent angels organized all the tree bows, wreath frames, candles, wreath decorations, etc. and we all went around like in an assembly line and assembled our wreaths.
The second Advent Sunday afterwards we all stayed and made Christmas cookies, Christmas decorations, and decorated a carrying bag. These were set up like centres/or little assembly lines. After everything was made, it was all put in the bag and left at the church.
Remember: all members of the church families are involved: moms, dads, kids, etc.
On the third Sunday, after church, every family was assigned a "shut-in" or someone who could not make it to church or needed a visit and we would go and take our decorations and cookies and bring Advent to them for the afternoon.
On the forth Sunday, you are pretty much out of your skin with excitement since the "day" is only a week away and it is a day for Christmas concerts or pageants or maybe even Santa comes (after church of course and in the hall not the sanctuary :)
These four weeks had such purpose and impressed upon me the "
Season
of Advent" and that we really were waiting and longing for Christmas to come.
My Mother was so instrumental in my love of Christmas. We would come home one day and the entire house was transformed to a Christmas wonderland, even the dishes and bathroom. We had tiny trees in our bedrooms and she made us a homeade tree ornament every Sunday in Advent so that when we had our own tree as an adult, we would have enough ornaments and the tree was loaded down with memories. She organized Christmas decoration/ornament making parties with her friends for all the kids. She made our Nativity Scene and Advent Calendar herself. She is practically as good as Santa himself!!
Advent is a wonderful time and I'm thankful that it is four weeks long so, although it goes way too fast, you can really soak up it's glory.
Sandy